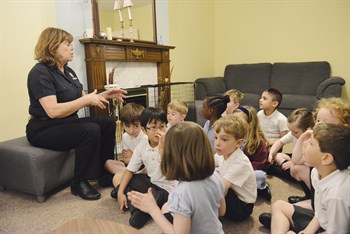 SafetyWorks! is celebrating a 40% rise in visitors over the past three years.
The centre is managed by Tyne and Wear Fire and Rescue Service, in partnership with Northumbria Police and Crime Commissioner, Northumbria Police, St. John's Ambulance, Nexus and local councils, welcomed 14,500 visitors through its doors last year, seeing a year on year increase for the last 8 years.
The state-of-the art interactive learning facility includes a mock-up, purpose built mini 'town' with a supermarket, metro station, hospital, police station, park and even a 'house'. It's in each of these settings that a range of safety talks and courses are delivered to school children, the elderly and vulnerable people from across Tyne and Wear.
SafetyWorks! is also the first facility of its kind to offer education for young people on the dangers of Child Sexual Exploitation (CSE) and ways to seek help and support.
This learning takes place in a brand new 'community hub' made possible thanks to funding secured by Northumbria Police and Crime Commissioner Dame Vera Baird QC. The hub provides a safe and comfortable setting where young people can learn about internet safety and potential risks including online grooming, sexting and more.
SafetyWorks! Centre Manager Gill Elvin, commented: "The excellent relationship we have with Northumbria Police, Nexus, Local Authority Road Safety Teams and St John Ambulance has certainly enhanced the range of safety lessons we are able to deliver to groups. In addition, the collaboration with Northumbria Police and the PCC has greatly improved the service which we offer.
"The increase in visitors is down to the hard work of the entire team who work here and I am immensely proud of them and the centre's reputation for providing an excellent learning experience to children and adults."
Dame Vera Baird said: "This is a collaborative project going from strength to strength. I'm pleased with how well received the new facilities have been – the fantastic growth in attendance figures speaks for itself. The more young people we reach out to with awareness and very important safety messages, the better."