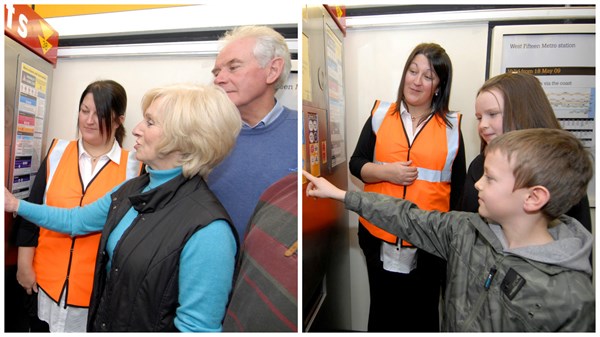 Ms Martin and children from St Peter and Paul school, South Shields visited SafetyWorks!  on 17th March.  Ms Martin went on to say:

 "Very well organised, with a short, sharp introduction, but best of all (and you don't often find this) every presenter, without exception, pitched their activities perfectly for the age group and paced their delivery perfectly too. Very impressed and will be recommending you".

Year 6 session – St Peter and St Paul Primary School, South Tyneside.
"Students really enjoyed the interactive sessions run by excellent staff. The day went quickly and smoothly and students (and teachers left with new knowledge which they could use and implement in their daily lives".


Year 8 session – St Thomas More RC Academy, North Tyneside
"Fantastic!  As always, we thoroughly enjoyed our visit to SafetyWorks!. The staff are friendly, professional and informative. The two hour visit flew by, which is always a good sign, as everyone was so engrossed in the scenarios and enjoying themselves.

The fact that the bus was provided adds to the appeal and was very much appreciated.  SafetyWorks! is an excellent school visit and we'd certainly recommend it to others." 

Year 6 session – Broadway Junior School, Sunderland
"A fantastic morning! It went far too quickly!" 

St Patrick's RC Primary School, Sunderland – Year 6 session 
"The children really enjoyed the whole morning and learnt a lot of really useful information" 

Year 6 session, New York Primary School, North Tyneside
"Summer Safety sessions were excellent – lots of new content the children thoroughly enjoyed. I would definitely recommend SafetyWorks to other schools, both in Newcastle and wider"

Summer Safety Campaign 2016 – Atkinson Road Primary School, Newcastle     
"The group found the session interesting. The various representative speakers were highly knowledgeable in their specialist areas"

Adults – Northumberland Women's Hubs
"The children in my class are all on the autistic spectrum and learning life skills is very important for them. The practical and visual aspect of the sessions appealed to them and the instructors paced it perfectly for the children – not too complicated but at an age appropriate level. They have remembered absolutely loads from their session as evidenced when we did some follow-up discussion and writing the next day"

Fellgate Autistic Unit
"I know a lot of information now like what to do if you have any fire especially if you have children. Also the metro and how can I buy the ticket, I feel more confident"

Lina, from Syria, mother of 4, now living in South Shields.  Jet North (Asylum Seekers)