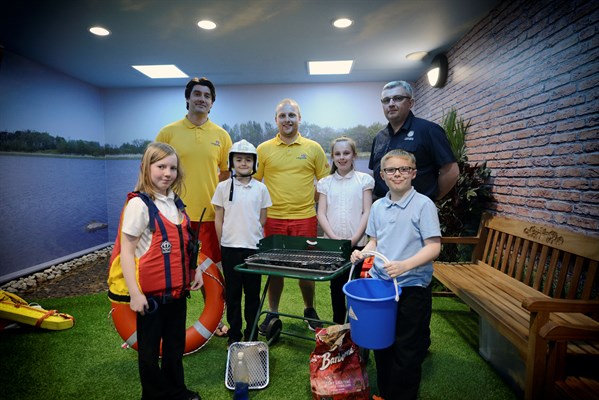 Tyne and Wear Fire and Rescue Service's interactive centre SafetyWorks! has had its most successful summer campaign ever.

A total of 1,660 children from primary schools across Tyne and Wear attended safety sessions over four weeks – an increase on last year's record campaign when 1,200 pupils attended.

The youngsters took part in fun awareness sessions covering fire, water and beach safety in preparation for the summer months. They also learned about first aid, road and travel safety during their visits.

Rowan Reed, of Hadrian Park Primary School, Wallsend, said: "The experience was good and all the children learned how to be safe in different situations. As real life professionals were used, I felt this made the learning experience more memorable for the children, as they were able to relate to the actual experience."

The campaign involved fire officers from Tyne and Wear Fire and Rescue Service and lifeguards from the Royal National Lifeboat Institution (RNLI). The SafetyWorks! team delivered a session about how to stay safe when playing outside and at barbecues, and Northumbria Police officers presented advice on Stranger Danger. It was also supported by St John Ambulance, Nexus and local road safety officers.

SafetyWorks! manager Gill Elvin, Tyne and Wear Fire and Rescue Service, said: "This is the fourth year that we have run the summer safety campaign and the number of children visiting the centre has increased every year. We have refurbished the centre this year and introduced more safety scenarios, so we expect the popularity of the campaign to carry on growing in years to come."

RNLI lifeguard community engagement supervisor, Nick Campbell, said: "The lifeguards thoroughly enjoy their time working with the SafetyWorks! team and also the other external agencies involved with the summer safety campaign. It is always very successful and hopefully this will continue in the future."

Chief Inspector Brian Walker, of Northumbria Police, said: "Police Community Support officers have given the youngsters an input on stranger danger and how to avoid putting themselves at risk. It's important that young people know how to stay safe in today's modern society and educating them in preventative measures is key to ensuring this."

Cllr Tom Wright, Tyne and Wear Fire Authority chairman, said: "SafetyWorks! provides young people with a fun way to learn about their own safety and the safety of others. By working together we can make much more of an impact, and I'd like to thank all our partners who worked with us on this initiative to help make a difference to young people's lives."