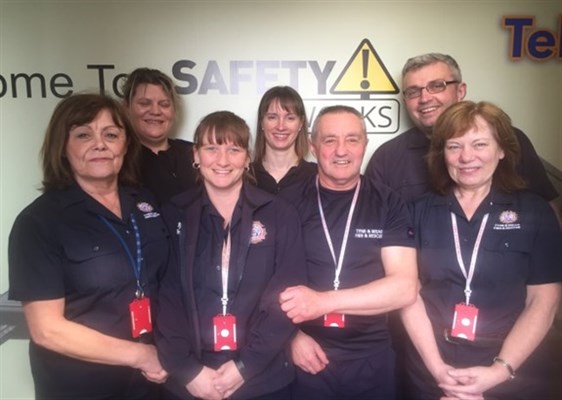 It has been a very busy year (2015/16) at SafetyWorks! resulting in a footfall exceeding the best previous year figures of 10,000. This year we are all delighted that we have engaged with just under 12,000 people. This is a real achievement as during the year, a substantial refurbishment took place causing some temporary disruption to the Centre.

During the year highlights includes the Year 6 and Year 8 campaigns for Gateshead, Newcastle, North Tyneside and South Tyneside schools. The Year 6 campaign focuses on Personal Safety while the theme for the Year 8 campaign is about Consequences of Anti-social Behaviour. Also, this is the fourth year that our Summer Safety campaign has been running. The campaign is always well attended with predictions suggesting that this year will be the best attendance yet.

All primary and secondary schools in Sunderland are invited to attend the Sunderland SAFE programme at SafetyWorks. This programme runs throughout the year and is well supported by our Partners as well as Sunderland City Council and Gentoo. This campaign makes a great contribution towards the overall footfall of the Centre.

SafetyWorks! have 2 Police Community Support Officers based at the Centre who will be delivering sessions around personal safety and consequences of anti-social behaviour. They are also able to deliver comprehensive sessions around all elements of (CSE) Child Sexual Exploitation. The Centre is now in a position where we can run two sessions simultaneously, one session running in the Centre scenarios and a separate session for groups attending a CSE session.

It is expected that the footfall for this year (2016-2017) will increase even further, bookings for evenings and weekends have noticeably increased. The Centre has undergone a full refurbishment which no doubt will help boost the Centre's footfall and funding over the coming years. The Centre will have a partner re-launch during late spring/early summer so watch this space….

If you would like to make SafetyWorks! an even greater success and come across groups or schools who you may think would benefit from a visit, please contact the Centre Manager Gill Elvin who will be happy to discuss how we can make this happen.