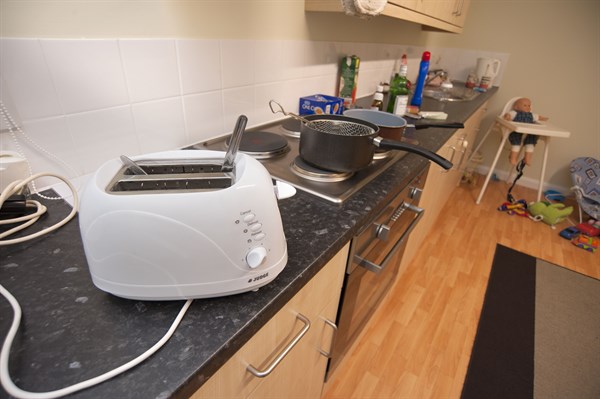 LIVING ROOM

KEY STAGE 1 (AGE 5 TO 7 YEARS)
In the Living Room, visitors will be able to identify a number of fire hazards whilst learning about the important of smoke alarms and what action to take on discovering a fire.
The dangers of matches and lighters
Stop, drop and roll
KEY STAGE 2 (AGE 7 TO 11 YEARS)
During this session we look at how fires start
Dangers in the bedroom
Fires in our own home

Fire triangle
The dangers of toxic smoke

Fire alarms and how to test them
Home safety visits

Fire escape plan
The 999 call

KEY STAGE 3 (AGE 11 TO 14 YEARS)
During this session we again look at possible causes of fires in the home and how they could be prevented.
Key stage 2 refresh

Fire alarm
The front room fire scenario
A group discussion on the multiple dangers
Fire escape plan

ADULTS
We again look at causes of fires in the home and show the front room fire video.
A group discussion on experiences of fires within the group
Fire prevention

Smoke alarms
Home safety visits
Fire escape plan taking in to consideration any plans that residents have in place depending on the type of accommodation they reside in
KITCHEN
KEY STAGE 1 (AGE 5 TO 7 YEARS)
An introduction to kitchen safety
Things that are hot
How to stay away from dangers in the kitchen
What to do if we burn ourselves

KEY STAGE 2 (AGE 7 TO 11 YEARS)
A slightly more advanced look at kitchen safety
Spotting the dangers
How to prevent fires in the kitchen

Burns and scalds first aid
KEY STAGE 3 AND ABOVE (AGE 11 TO 16 YEARS)
A more advanced session covering the following topics.
Chemical storage
Alcohol and medication
Slips, trips and falls
Electrical safety
Fire prevention
Child safety